Illegal logging is the harvesting of wood that is in violation of national regulations. This could include harvesting timber from protected areas, felling protected species, or exceeding logging quotas. Illegal logging often takes place in countries with poor governance and law enforcement capacity, especially in tropical rainforests and the boreal forests in Russia's Far East. The impacts of illegal logging are varied, ranging from unchecked deforestation to the deprivation of sustainable livelihood opportunities for local communities. According to World Bank estimates, illegal logging also results in a loss of approximately 5 billion USD in tax revenue for governments annually. The lack of regulation also prevents as well as depressing global prices for timber by about 7-16%. Illegal timber floods the market without being subject to taxes and duties, and is cheaper than legal timber, which in turn drives down legal timber prices. The reduction in legal market prices results in a loss of 10 billion USD for the legal timber industry, while the loss of tax revenues costs governments an additional 5 billion USD. Besides economic costs, the scale of deforestation caused by in illegal logging is significant enough to contribute to the intensification of climate change via the reduction in carbon sequestration capacity. 
Recent research has identified illegal conversion of forests to agricultural land uses as one of the key drivers of deforestation around the world, with over 20 million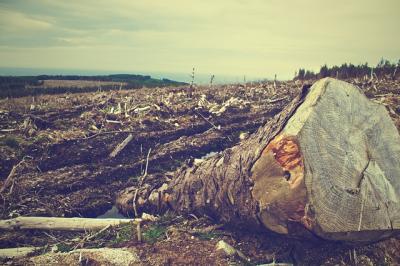 hectares of forest were illegally converted from 2000 to 2012. In terms of spatial distribution, the most heavily deforested regions were Brazil and Indonesia, which accounted for 75% of illegally cleared tropical forestland from 2000-2012. In many countries, the process of issuing licenses for land clearing is compromised by corruption, while laws regarding procedure, such as methods of land clearing, consultation with local communities, compliance with logging concession boundaries, are also frequently breached. 
Legislation in consumer markets like the US, the EU, Australia, and Japan, such as the Lacey Act in the US, have led to reductions in the volume of illegal timber imports into those countries. However, emerging markets that are less sensitive to issues of sustainability like China, Vietnam, and India are diminishing the impact of such demand-side legislation. One study (Chatham House, 2015) estimated that approximately half of the timber exported internationally (22.2 million m3 of roundwood equivalents) is derived from forest conversion, and of that number an estimated two-thirds is illegally harvested. Over the past decade, China has become a significant market for timber, accounting for half of global illegal timber imports. Efforts in industrialized countries have led to reduced illegal imports in those consumer markets, but the massive increases in China's consumption of raw materials have offset any reductions in the illegal timber trade, with protected but high-value species like rosewood (Dalbergia spp.) being smuggled into the country. 
Illegal logging in developing countries is facilitated often by organized crime networks in conjunction with corrupt government officials, with many instances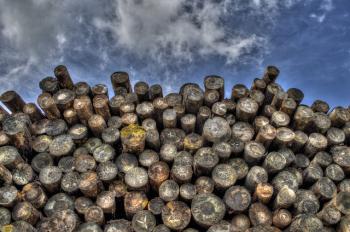 of selective logging taking place even in protected areas, due to the lack of forest law enforcement. As a result of weak forest governance, illegal timber accounts over 70% of some countries' timber exports, such as Peru, Bolivia and the DRC. In Brazil and Indonesia, lower proportions of the total timber produced are from illegal logging (Brazil - 25%, Indonesia - 50%), but even those proportions represent huge volumes of illegally harvested timber. In some cases it is particularly difficult to distinguish between illegal conversion of forestland for agricultural purposes, and illegal logging solely for the sale of timber and wood products. 
Illegal logging in countries like Cambodia or Peru is often carried out by local communities, which receive marginal economic benefits while timber operators and ringleaders receive most of the profits. The FAO emphasizes the need to acknowledge the importance of forest-based informal employment and subsistence when determining forest management policy, in order to maintain both livelihoods and ecological sustainability. However, financial and logistic barriers to the formalization of these small-scale loggers prevent monitoring and regulation of such actors. Forest certification is intended incentivize parts of the logging supply chain to comply with "best practices", including processors of illegal timber. However, consumer-end interventions are less effective in developing countries' markets. Various NGOs and development agencies point to the need for improved forest governance as the primary means of reducing the extent of illegal logging. Explore further to learn more about illegal logging in the Congo Basin and the Russian boreal. 
Chatham House. (2015, July). Tackling Illegal Logging and Related Trade: What progress and where next. The Royal Institute of International Affairs, London. 
Contreras-Hermosilla, A. (2002). Law compliance in the forestry sector: An overview. Washington, DC, USA: World Bank. 
FAO & Verifor. (2009). Meeting the Challenge of Timber Legality Verification. FAO, Rome. 
Forest Trends. (2014, September). Consumer Goods and Deforestation: An analysis of the extent and nature of illegality in forest conversion for agriculture and timber plantations. Forest Trends Association, Washington, DC. 
Forest Trends. (2015, July). Conversion Timber, Forest Monitoring, and Land-Use Governance in Cambodia. Forest Trends Association, Washington, DC. 
Laurance, W. F. (1998). A crisis in the making: Responses of Amazonian forests to land use and climate change. Trends in Ecology & Evolution, 13(10), 411-415. 
World Bank. (2012). Justice for Forests: Improving criminal justice efforts to combat illegal logging. World Bank, Washington, DC. 
World Bank. (2006). Strengthening Law Enforcement and Governance: Addressing a systemic constraint to sustainable development. World Bank, Washington, DC.