In the vast Congo Basin, illegal logging is prevalent, especially in the Democratic Republic of Congo. Greenpeace reports numerous concessions that have been awarded despite the 2002 moratorium in the DRC. In 2012 Global Witness reported that 90% of tax revenues from logging is lost to illegal activity, and restricted species such wenge (Millettia laurentii) are cut for export. News reports continue to discover timber shipments that may not be of legal origin.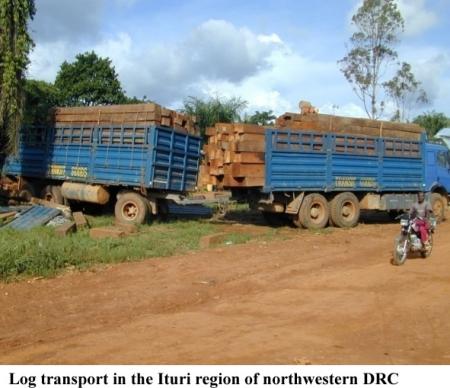 Illegal logging is detrimental to national governments as it deprives them of tax revenue. Moreover, illegal logging is harmful to biodiversity and forest dependent peoples, as it undermines governance, opens forest areas up to new human encroachment, and can even facilitate violent conflict. In the Congo Basin, annual losses in revenues and assets due to illegal logging is significant, with yearly losses estimated at US$5.3 million in Cameroon; in the Republic of Congo, US$4.2 million; and in Gabon, $10.1 million. Studies in DRC have estimated artisanal logging production between 1.5 and 2.4 million cubic meters, five to eight times the official industrial timber production.
The connection between illegal logging and violent conflict in various parts of Africa has facilitated the term conflict timber. In countries where there logging concessions were active before violent strife arose, conflict often suppresses logging operations, such as in the republic of Congo in the 1990s. In areas where there were few active logging concessions before the conflict, however, such as in the DRC, conflict has likely facilitated illegal logging. Elsewhere in Africa, Charles Taylor in Liberia was famous for using conflict diamonds and later conflict timber to finance his regime. Conflict timber in Africa was a significant part of the stimulus for the FLEGT of the EU.
Due to the violent conflict in the DRC, new logging concessions were halted and approximately half of previous concessions were revoked in 2002. Although many of these concessions have been reissued, many groups continue to criticize the lack of enforcement in the forestry sector. The Forest Code also distinguishes different forest users, and classifies private loggers as concession holders and artisanal loggers. However, the Forest Code does not have a clear mechanism for managing artisanal loggers, who often purchase cutting rights from community leaders without formal legal process with the community as a whole. Moreover, artisanal logging permits are often granted to foreign loggers that would otherwise be required to obtain more costly industrial logging permits.  
Illegal logging comes in many forms, such as logging in protected areas, logging in established concessions but of prohibited species, or logging in established areas of legal species but in excess of the allowable cut. Informal logging is an important sector in DRC that supports populations' subsistence due to lack of alternatives. The difficulty of acquiring permits, especially in rural areas and the lack of alternatives exacerbated by conflicts push many operators to remain in the informal and illegal activities.
In October 2013 regional governments and timber companies agreed to jointly combat the illegal trade of timber and logging in the Congo Basin in the Brazaville agreement. They recognize that more than 80% of the value added comes from forestry and logging and much is illegal. Read more about illegal logging in the Congo basin from the Global Witness report Logging in the Shadows and in a 2014 Chatham House report. See more about legality verification and forest certification programs in the Congo Basin.    
---
Megevand, Carole (2013). Deforestation Trends in the Congo Basin: Reconciling Economic Growth and Forest Protection. Washington, DC: World Bank.
Price, S., Donovan, D., & De Jong, W. I. L. (2007). Confronting conflict timber. In Extreme Conflict and Tropical Forests (pp. 117-132). Springer Netherlands.
The Forests of the Congo Basin - State of the Forest 2010, Eds: de Wasseige C., et al. 2012. Publications Office of the European Union. Luxembourg. 276 p.
Umunay, P. & Makana, J.R. (2009). Etude sur le Commerce Transfrontalier de Bois Dans le Nord-est de la République Démocratique du Congo. Unpublished report submitted to IUCN DRC.
UN News Centre. (2013). African countries consent to tackle illegal timber trade in Congo Basin. Retrieved from https://www.un.org/apps/news/story.asp?NewsID=46321&Cr=environment&Cr1=