The Republic of Congo, often known as Congo – Brazzaville to avoid confusion with the DRC, lies to the north of the Congo River, covering a rainforest rich region stretching to Gabon, Cameroon, and the Central African Republic. Most of the nation's 4.5 million inhabitants live in the south near the capital city of Brazzaville. The country has approximately 21 million hectares of forest land, partially in the coastal forests of the south but mostly in the sparsely inhabited north (the central part of the country is savannah forest). Total, about 15 million hectares are designated forestry concessions, and 4 million are protected areas. 
The Republic of Congo shares a similar to history of other countries in Central Africa. It was a French colony named Middle Congo, and gained independence in 1960, only to suffer frequent political turmoil. Rep. Congo was allied with the Soviet Union for most of the cold war and ruled by Denis Sassou Nguesso from 1979 until the fall of communism in 1992. Civil war erupted in 1997 and Sassou returned to power, with the aid of neighboring Angola. Since the peace, Sassou has won two elections in 2002 and 2009, although both have been plagued by controversy.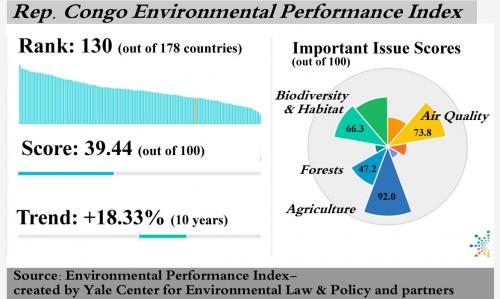 Timber is an important export of the Congo although export volumes are much lower than other countries of the region. Commercial logging of species such as Aucoumea klaineana (okoumé)  has traditionally focused on the more accessible Atlantic equatorial coastal forest. Early forestry laws were rarely enforced; the current forestry law was enacted in 1998, and requires management plans, conservation, and concession periods of 10 years. At the same time, forestry and general economic reforms in the 1990's forced the breakup of parastatal companies into private forestry concessions. Many new concessions were granted in the unlogged north, including the Swiss based company Congolaise Industrielle des Bois (CIB). See more about CIB on the forest certification page. Policies have encouraged log export restrictions in favor of local processing, but total processing limited due to low investment and infrastructure. Enforcement is also weak, tax collection is low, and many logs from the north escape through neighboring Cameroon. Some reports also discover corruption and loss of tax revenue, and few concessions have completed management plans. Enforcement is complicated by overlap between the Forest Ministry and the Ministry of the Environment; current mapping initiatives are seeking to clarify overlapping land use concessions. Congo's forestry sector fared poorly during the economic crisis of 2008 due to low demand in export markets such as Europe.
Republic of Congo has a large network of protected areas, especially in the remote north. The Ministry of Forestry Economy and Sustainable Development coordinates with the Wildlife Conservation Society in managing wildlife and its habitat in national parks, reserves, and buffer zones. The Republic of Congo is also actively involved in REDD+ and FLEGT. The Voluntary Partnership Agreement for timber legality was signed with the EU in 2010 and ratified in 2013. Congo participates in UN-REDD and the World Bank FCPF; FCPF readiness proposal was approved in 2010 and re-approved in 2011. Readiness activities financed by the two programs include mapping of deforestation drivers and institutional and policy frameworks; other planned activities include reference scenarios, MRV, social safeguard analysis, and stakeholder consultation. REDD+ in Congo was criticized for lack of involvement of communities and local civil society; the country has responded by establishing legislation for the protection of indigenous peoples and creating a consultation framework for civil society and indigenous organizations. A REDD+ pilot project is underway in the Pijounda region, promoted by Olam International and logging concession holder CIB (read a description at The Forest Trust).
---
Sources:
Cerutti P.O, Lescuyer G, Tsanga R, Kassa S.N, Mapangou P.R, Mendoula, E.E, Missamba-Lola, A.P, Nasi R, Eckebil P.P.T and Yembe R.Y. (2014). Social impacts of the Forest Stewardship Council certification: An assessment in theCongo basin. Occasional Paper 103. CIFOR, Bogor, Indonesia.
Forest monitor. (n.d.) Country Profiles- Congo (Brazzaville). Retrieved July 18, 2014 from http://www.forestsmonitor.org/en/reports/540539/549939
Freedom House (n.d.). Congo, Republic of (Brazzaville): 2013 Scores. Retrieved from https://freedomhouse.org/report/freedom-world/2013/congo-republic-brazzaville#.U4jIvVdGP5E
Minnemeyer, S., Steil, M., Mertens, B. & Nsoyun, L.A. (2007). Interactive Forest Atlas of Congo - Atlas Forestier Interactif du Congo (Version 1.0). World Resources Institute. Retrieved from http://www.wri.org/publication/atlas-forestier-interactif-du-congo-interactive-forest-atlas-congo-version-10
The Forests of the Congo Basin - State of the Forest 2010, Eds: de Wasseige C. 2012. Publications Office of the European Union. Luxembourg. Page 173.
Yabouna, Cyriaque. (2003). Partnership and Governance : the government, logging companies, and road building in the Republic of Congo. Forest Management Transparency, Governance and the Law Case studies from the Congo Basin, The Center for Environment and Development the Rainforest Foundation & Forests Monitor, Eds. Pp. 22-26.