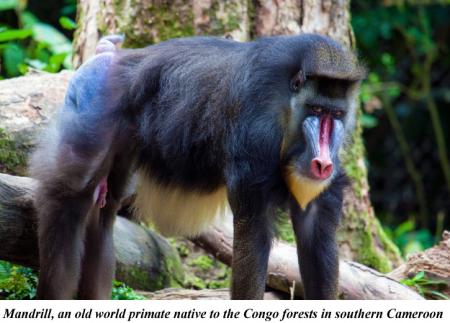 The forest sector in Cameroon is one of the largest economic sectors in the country, providing a large percentage of jobs and export revenue. Additionally, rural residents have a long history of agroforestry systems and use of non-timber forest products, most of which are consumed locally or traded informally. Designated forest covers approximately 18 million hectares of Cameroon, about half of which is forestry concession and the other half of which is protected as national park or hunting zone. 4-5 million hectares more of forest lie outside of the designated forestland, and much of it is occupied by rural residents practicing shifting cultivation. 
Forest policies and a forest ministry were established in Cameroon in the mid 1990s. The forest law implemented a concession system, management plans, taxation, maintenance of 30% permanent forest area, and decentralization with the adoption of community concessions.  Commercial concessions are open to public bidding and available for 15 years; community logging permits are good for 25 years, and individual use permits or timber recovery permits are also available for smaller scale operations. Cameroon forestry laws permit customary use rights such as hunting and NTFP collection inside concessions for local communities; the forest ministry also distributes revenue from concessions fees amongst citizens.
Cameroon was the first country in the region to adopt a forestry law (although it was not implemented until a few years later), and the only one to require independent observers (originally performed by Global Witness). Cameroon has restricted export of raw logs, instead favoring wood processing. Proponents of the forest sector in Cameroon cite the great improvements in forest governance and management in the early years of adoption of forest reform. However, critics note various shortcomings; the forest sector is plagued by "weak enforcement of forest and environmental law, weak capacity, and strong dependence on external partners to implement programmes". Additional problems for landscape management include a lack of coordination among different government sectors, such as forests and the economic forces that drive deforestation. Others note that poor resource management derives from poor institutional arrangements and incomplete decentralization, where local elites or corruption interfere with effective local management.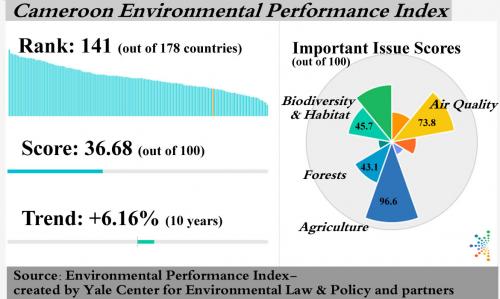 Cameroon has partnered with several outside organizations such as the World Resources Institute and various development agencies to implement forest governance with capacity building, community and civil society participation, and monitoring of compliance with forest regulations. Cameroon has several FSC certified forest operations, and it signed a voluntary partnership agreement in 2010 with the European Union to track timber legality. Since 2002, observers have noted that illegal forest activities have declined significantly, but other groups note continued challenges in implementation and local participation. Cameroon's forestry sectored fared better during the economic crisis of 2008 due to their more diversified wood industry with species such as azobé (Lophira alata) and okan (Cylicodiscus gabonensis) which are used in industry. Also during the crisis, Cameroon lowered log taxes, increased quotas, resulting in higher overall export.
Cameroon has also been active in REDD+; the country's readiness preparation proposal was approved by the World Bank in 2013. However, critics argue that weak institutions have led to lack of participation in the REDD+ process, as policymakers have not been able to properly consult forest residents in the planning process. Proposals for effective REDD+ participation include building on existing forest governance and clarifying the legal framework for REDD+, engaging rural and indigenous communities, and ensuring transparency and communication. Recently, Cameroon announced planned reforms to the forest law of 1994, including improved participation, transparency, and land tenure reform.
---
Sources:
Cerutti P.O, et al. (2014). Social impacts of the Forest Stewardship Council certification: An assessment in the Congo basin. Occasional Paper 103. CIFOR, Bogor, Indonesia.
Dkamela, G.P. (2010). The context of REDD+ in Cameroon: Drivers, agents and institutions. Occasional paper 57.
EU FLEGY Facility. (n.d.). Cameroon. Retrieved from http://www.euflegt.efi.int/cameroon
Ezzine de Blas, D., & Ruiz Pérez, M. (2008). Prospects for reduced impact logging in Central African logging concessions. Forest Ecology and Management, 256(7), 1509-1516.
Logging Off. (n.d.) FLEGT in Cameroon. Retrieved July 18, 2014 from loggingoff.info/process/flegt-cameroon
Oyono, P. R. (2005). Profiling local-level outcomes of environmental decentralizations: the case of Cameroon's forests in the Congo Basin. The Journal of Environment & Development, 14(3), 317-337.
Ngalame, E.N. (2014). Cameroon readies new law to strengthen forest governance. Reuters. Retrieved from http://www.trust.org/item/20140523102935-jl7cm
The Forests of the Congo Basin - State of the Forest 2010, Eds: de Wasseige C. et al. 2012. Publications Office of the European Union. Luxembourg. Page 173-176.
Topa
, G. (2009).
The rainforests of Cameroon: experience and evidence from a decade of reform
. World Bank Publications.