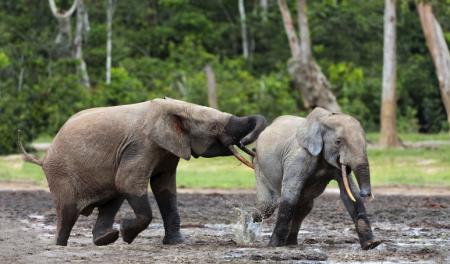 Reducing Emissions from Deforestation and Forest Degradation (REDD) is an effort to create a financial value for the carbon stored in forests, offering incentives for developing countries to reduce emissions from forested lands and invest in low-carbon paths to sustainable development. Many Congo Basin countries are actively engaged in REDD+ initiatives, although less advanced in planning than countries in other regions such as Brazil and Indonesia. With support from international groups such as the World Bank and the UN, as well as bilateral donors and NGOs, many Congo basin countries have developed REDD-Readiness Preparation Plans and are moving towards project implementation. REDD readiness generally involves preparing a country for participation in carbon markets, where countries demonstrate reductions in deforestation and are compensated according to the associated reduction in carbon emissions. Readiness activities in the Congo basin countries include the development of national strategies, creation of committees and working groups, identification of stakeholders, creation of reference forest carbon levels, and implementation of monitoring systems. Other early activities include studies on deforestation drivers, capacity building, establishment of environmental and social safeguards, and design of pilot projects. See example readiness activities on the UN-REDD page for DRC. Similarly, the Forest Investment Program of the World Bank assists countries like the DRC in forest conservation planning and REDD readiness.   
Throughout the Congo Basin, many REDD+ projects are funded and coordinated by the Congo Basin Forest Fund, funded largely by Norway and the UK, and administered by the World Bank, the UN, and the African Development Bank. The Fund, similar to the Amazon Fund of Brazil, seeks to facilitate finance for REDD+ projects that would otherwise be too small for individual donors; even so, the fund has only slowly been granting money to specific projects.
Eight geographically integrated pilot projects have been approved and are being implemented on the ground; many projects involve NGOs, local communities, and project developers (often private businesses). Projects include: Eco-Makala pilot project around Goma by WWF and partners; Mambasa integrated pilot project in Ituri by WCS and partners; Isangi project around Kisangani by Jadora (private company); Mbandaka-Bikoro project in Equator Province by Woods Hole Research Center; Djolu project with African Wildlife Foundation; Kwarmouth project with NOVACEL (private company) in Bandundu; and Luki with WWF and partners in Bas-Congo. See an interactive map of REDD+ projects in DRC at the site of the National Forest Monitoring System. Other projects in the region include the Mai Ndombe project, developed by Wildlife Works, the Sangha tri-national project on the border of Cameroon, Republic of Congo, and Central African Republic and the Dja biosphere project in Cameroon. Elsewhere in Africa, project developers are looking to use finance from the private sector to develop REDD+ projects, such as the Wildlife Works projects in the Kasigua Corridor and more recently the Taita Hills, both in Kenya.
---
Sources:
Climate Investment Funds. (n.d.). Democratic Republic of Congo. Retrieved from http://www-cif.climateinvestmentfunds.org/country/democratic-republic-congo
Dzanga Sangha National Park (n.d.) Wildlife Conservation Society. Retrieved from http://www.dzanga-sangha.org/node/371
Pollon, C. (2012). Congo Basin Forest Fund Steps Up For REDD+ Piloting In DRC. Ecosystem Marketplace.  Retrieved from http://www.ecosystemmarketplace.com/articles/congo-basin-forest-fund-br-steps-up-for-redd-piloting-in-drc/ 
UN REDD. (n.d). Democratic Republic of Congo. Retrieved from http://www.un-redd.org/UNREDDProgramme/CountryActions/DemocraticRepublicofCongo/tabid/1027/language/en-US/Default.aspx
Watson, C. & Nakhooda, S. (2012). Financing readiness: insights from the Amazon Fund and Congo Basin Forest Funds' efforts to reduce emissions from deforestation and degradation. ODI. Retrieved from http://www.odi.org/publications/6717-amazon-nakhooda-watson-redd-redd-readiness-finance-congo-basin-amazon-deforestation-climate