In heavily populated forest landscapes such as much of Central Africa, agroforestry systems can be an effective means to ensure rural livelihoods while maintaining forest cover and biodiversity. Significant research and capacity building is focused in the Cameroon highlands, where local farmers often plant small plots of coffee and cocoa, but with low yields and subject to volatile market fluctuations. Studies have found that coffee and cocoa farms retain a great diversity of native tree species, but that the diversity is often lost in farms closer to urban areas and roads. Researchers from the World Agroforestry center have surveyed farmers in Cameroon and West Africa and found that they preferred planting indigenous fruit trees, but that little scientific information was available for improved varieties of these species, thus providing an impetus for capacity building in agroforestry production.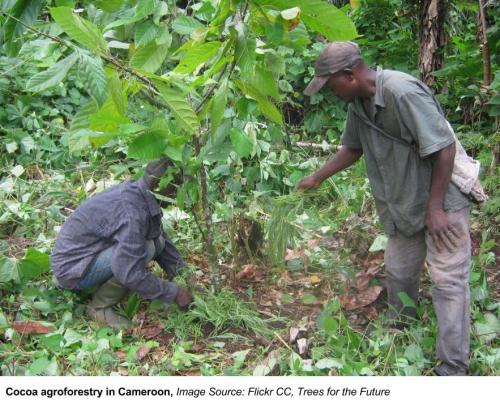 An important component of agroforestry in the Congo Basin is selecting valuable fruit trees that can produce high yields. Much of this selection is done through a process known as participatory domestication, where researchers work with communities to select varieties and adapt them for local use. Tree cultivation is often done through vegetative reproduction, using techniques such as air layering (marcotting), cuttings, and grafting, which allow greater selection of desirable traits than simple seed planting. Desirable traits for agroforestry species include not just size and taste, but also fast growth and fruiting, and uniform fruit size.
In the Congo Basin and surrounding forest landscapes of Central Africa, numerous species are utilized in agroforestry systems.  Fruit trees include African mango (Irvingia gabonensis), safou / butterfruit (Dacryodes edulis), Kola nut, the original source of caffeine in Coca-cola (Cola spp), bitter kola, a medicinal plant related to mangosteen (Garcina kola), Njangsa (Ricinodendron heudelotti), tamarind, planted throughout the world but native to the dry woodland savannah of Sudan (Tamarindus indica), shea nut, in West Africa (Vitellaria paradoxa), and ber fruit (Ziziphus indica). Medicinal species include Annickia chlorantha, Khaya senegalensis, Pausinystalia johimbe and bark of African cherry (Prunus africana). Experts believe hundreds more species in the region have great potential for domestication and use in agroforestry systems. Finally, African oil palm (Elaeis guineensis), while a massive driver of tropical deforestation throughout the world, is native to Central and Western Africa, and if managed well can form part of a sustainable agroforestry system.  
Experience has shown that tree domestication and cultivation is only one component of successful
agroforestry
; market economics are also crucial. Capacity building programs and
microcredit
assist landowners to obtain storage facilities in order to be able to provide more constant product supply throughout the year as well as more efficient technology to process fruits and nuts. The World
Agroforestry
Center (
ICRAF
) is based in Kenya and works regionally throughout the world; one of their focus areas is based in highlands of Cameroon. Read more about
agroforestry
systems in Central Africa on ICRAF's 
webpage
and
blog
.
---
Sources:
Pye-Smith C. 2010. The Fruits of Success: A programme to domesticate West and Central Africa's wild fruit trees is raising incomes, improving health and stimulating the rural economy. ICRAF Trees for Change no. 4. Nairobi: World Agroforestry Centre.
Sonwa, D. J., Nkongmeneck, B. A., Weise, S. F., Tchatat, M., Adesina, A. A., & Janssens, M. J. (2007). Diversity of plants in cocoa agroforests in the humid forest zone of Southern Cameroon. Biodiversity and Conservation, 16(8), 2385-2400.
Tchoundjeu, Z., Asaah, E. K., Anegbeh, P., Degrande, A., Mbile, P., Facheux, C., … & Simons, A. J. (2006). Putting participatory domestication into practice in West and Central Africa. Forests, Trees and Livelihoods, 16(1), 53-69.