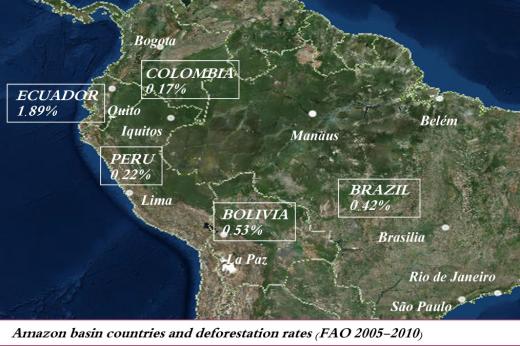 The forests of the Amazon basin are home to 20 million people of Brazil and the four Andean countries, in addition to hundreds of autonomous indigenous organizations. Governance of these forests and landscapes affects nearly all aspects of forest and land use in the Amazon, from logging regulations to payments for environmental services, from community forestry to soy plantations. Amazonian countries have created varying policies of forest governance that affect forests in the Amazon basin. See individual descriptions of Brazil, Peru, Colombia, Venezuela, Bolivia, and Ecuador. Governance also has significant implications for conservation policies in the Amazon such as protected areas and REDD+.  
South American countries have developed a few multilateral treaties of cooperation to govern forests and natural resources. The Amazon Cooperation Treaty Organization (ACTO), established in 1995, is an intergovernmental body in charge of fostering political dialogue and regional cooperation between the Amazon Region countries. Crosscutting themes are conservation and sustainable use of renewable natural resources and sustainable development. In forests, ACTO promotes projects of cooperation such as deforestation monitoring, promotion of bi-national protected areas, community forestry, value chains for non-timber forest products, and legality monitoring of timber trade. See more about projects of ACTO at GIZ  and IISD. 
Regional trade and cooperation treaties also have indirect effects on the forest of the Amazon basin. UNASUR is a non-binding political union of all countries of South America, established in 2010 to integrate nations of South America and mediate conflicts. MERCOSUR is a free trade zone of selected South American countries, established in 1991: Brazil, Argentina, Paraguay and Uruguay. A similar trading block, the Andean Community, exists amongst among Andean nations Colombia, Ecuador, Peru, and Bolivia. The Pacific Alliance is a new trade bloc established in 2011 between free trade economies of Chile, Peru, Colombia, and Mexico. Especially important for forests of the Amazon basin is IIRSA, the Initiative for the Integration of the Regional Infrastructure of the Amazon, including highways and energy projects. Current IIRSA projects include the Interoceanica Sur, or southern inter-oceanic highway, completed in 2010, connecting Acre, Brazil with Madre de Dios in southeastern Peru, and further on to the Pacific Ocean. One aim of this and other regional infrastructure projects is to facilitate commerce transport from the central Amazon to ports on the Pacific coast in order to reach markets in Asia. 
Click on the links below to learn more about forest governance in these countries: