Reducing Emissions from Deforestation and Forest Degradation (REDD) is an effort to create a financial value for the carbon stored in forests, offering incentives for developing countries to reduce emissions from forested lands and invest in low-carbon paths to sustainable development. REDD plus (REDD+) attempts to go beyond deforestation and forest degradation, to include the role of biodiversity conservation, sustainable management of forests and improvements to forest governance and local livelihoods (although the two terms are nowadays often used interchangeably).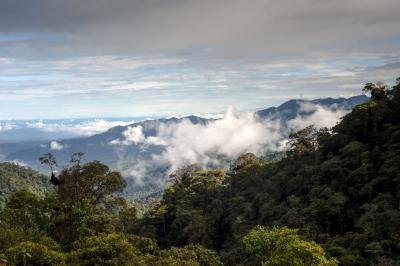 Many Amazon Basin countries are actively engaged in REDD+ initiatives. Brazil is one of the most advanced countries in the world in REDD+ planning. As Brazil began to crack down on deforestation beginning in 2005-2006, the national government created climate change policy and reduced deforestation targets. Subsequently, they announced the Amazon Fund to help finance these programs and compensate for lost economic development. The Amazon Fund is a voluntary project set up in 2008 by the government of Brazil to receive compensation for reduction of deforestation. The Amazon Fund, directed by the Brazilian Development Bank, manages donations in order to implement national climate change and forest governance policies and mechanisms. The major donor is the Norwegian government; smaller donors include the government of Germany and Brazilian oil company PetroBras. Emission reduction "diplomas" are issued for deforestation below the calculated reference emission level in Brazil's Amazon biome. See an overview of REDD+ in Brazil at the REDD desk and Mongabay. Other Amazonian countries also participate in UN-REDD and World Bank REDD programs. 
At the regional level, jurisdictions in the Amazon Basin such as Acre, Brazil are implementing regional REDD+ initiatives. Acre, located in the southwestern Amazonian region of Brazil, bordering Bolivia and Peru, is home to the famous rubber tapper Chico Mendes, and has been a leader in forest conservation initiatives. Actions of the Acre State project are centered on territorial zoning, forest governance, and productive chains for sustainable forestry; financing comes from the Amazon Fund at the national level. The state of Acre also has signed a memorandum of understanding with the state of California as part of the Governors Climate and Forests task force to participate in its cap and trade market (along with Chiapas, Mexico and recently added states of the Peruvian Amazon). However, several environmental groups oppose permitting REDD+ credits in the California market.   A similar regional level project is Bolsa Floresta in the state of Amazonas, which pays forest owners and communities to maintain their forest land (see other payments for ecosystem services page). The UN and numerous international donors are also proposing landscape initiatives, similar to jurisdictional REDD, to help tropical countries slow deforestation while permitting agriculture and economic development. 
At the project level, the REDD+ mechanism facilitates carbon credits that can be sold on voluntary markets. Numerous examples exist in Brazil, Peru, and elsewhere in the Amazon Basin involving indigenous communities, NGOs, and other groups that create REDD+ projects.  The first REDD+ project in the Amazon was the Juma project, established in 2007 and funded in part through Marriott Hotels. The project aims to conserve threatened forest south of Manaus in the state of Amazonas. In Acre, Brazil, the indigenous Paiter-Surui people have worked with outside groups including Forest Trends to create the Surui forest carbon project. In this project, Brazilian cosmetic company Natura agreed to buy credits generated from the avoided deforestation project; Idesam (The Institute for the Conservation and Sustainable Development of Amazonas) assisted with monitoring, reporting, and verification and Funbio helped to distribute payment. In the San Martin Alto Mayo region of Peru, Conservation International has developed a REDD+ project, and credits generated from forest carbon have been bought by the Walt Disney Company. In Madre de Dios, Peru, numerous REDD+ projects have appeared in response to the deforestation drivers from the inter-oceanic highway from Acre, Brazil. In REDD+ projects such as these, opportunity costs for forests are important. In the Andes and in remote areas of the Amazon basin, infrastructure is poor, terrain may be steep, and land parcels may be small. Thus, forest carbon payments may be able to compete with the alternative land use. In Surui, Brazil, REDD+ payments averaged $5 / hectare of forest land, but much of the payment is used for administration and monitoring costs. In other areas of the Amazon Basin with better road access, such as Mato Grosso, Brazil and Madre de Dios, Peru, however, potential revenue from alternative land uses such as soy and palm oil are likely much higher than potential carbon payments.   
Many organizations and researchers have noted grave risks associated with REDD+, for fears of monetizing environmental values, justifying continued fossil fuel pollution, and usurping local control of forest areas. In Brazil, researchers suggest that payments for ecosystem service programs such as REDD+ will face challenges in areas of poor governance and enforcement and weak tenure rights. Worldwide, scholars criticize REDD+ that it will reverse the trend of local forest control and "recentralize" forest governance. Others note the failure to contain leakage, or the shifting of deforestation from one area to another. One of the earliest REDD projects, the Noel Kempff Reserve in Bolivia, has been condemned for using poor baseline emission information and failing to prevent deforestation outside of the park's borders. Finally, financial analysts claim that the market structure of REDD transactions will lead to a poor allocation of resources and low returns for forest owners. However, other experts note that various forms of conditional cash transfers have had success where other forms of development have not, and that conservation aid could be structured in a similar manner.  
An alternative to the international REDD+ framework has been presented by indigenous communities of the Amazon region. This indigenous REDD proposal seeks to acknowledge and reward the role of indigenous communities and their role in forest conservation. Conventional REDD+ proposals tend to target areas of high deforestation risk instead of remote areas with more secure conservation status, many of which are indigenous reserves. Some cases of "carbon cowboys" such as an attempted forest carbon scam of an indigenous group in the northern Peruvian Amazon have attracted international media attention. Proponents of indigenous REDD advocate payments for indigenous communities to reward their conservation of tropical forest areas; these payments should be used to facilitate land titling and tenure clarification.
---
Sources:
Borner, J., Wunder, S., Wertz-Kanounnikoff, S., Rugnitz Tito, M., Pereira, L. and Nascimento, N. 2010. Direct conservation payments in the Brazilian Amazon: Scope and equity implications. Ecological Economics 69: 1272-1282.
Castillo, S. February 21, 2013. "Experts Look Ahead to California REDD." Ecosystem Marketplace.
Center For Global Development. (n.d.) Tropical Forests for Climate and Development. Retrieved from http://www.cgdev.org/initiative/tropical-forests-climate-and-development
Eilperin, J. October 15, 2009. "Use of Forests as Carbon Offsets Fails to Impress in First Big Trial." The Washington Post. 
Forest trends. (2012). The Surui Become the First Indigenous Tribe to Earn Carbon Credits under Internationally Recognized Standards. Retrieved from http://www.forest-trends.org/announcements.php?id=232
Gonzalez, G. (2013). International REDD Faces Uphill Battle in California in 2014. Ecosystem Marketplace. Retrieved from http://www.ecosystemmarketplace.com/articles/international-redd-faces-uphill-battle-in-california-in-2014/
Hajek, F., Ventresca, M. J., Scriven, J., & Castro, A. (2011). Regime-building for REDD+: Evidence from a cluster of local initiatives in south-eastern Peru. environmental science & policy, 14(2), 201-215.
Herbert, T. July 22, 2010. "Setting Up Nest: Brazil, Acre, and the Future of REDD." Ecosystem Marketplace.
Jacobs, R. (2013). The Forest Mafia: How Scammers Steal Millions Through Carbon Markets. The Atlantic. Retrieved from http://www.theatlantic.com/international/archive/2013/10/the-forest-mafia-how-scammers-steal-millions-through-carbon-markets/280419/
Lang, C. (2011). Munden Project report on REDD and Forest Carbon: "Forest carbon trading is unworkable as currently constructed". REDD Monitor.org. Retrieved from http://www.redd-monitor.org/2011/03/22/munden-project-report-on-redd-and-forest-carbon-forest-carbon-trading-is-unworkable-as-currently-constructed/
Mora, M. (2013). 5 Years Later, Peruvian Farmers Reveal New Attitudes Toward Forest Protection. Conservation International Blog. Retrieved from http://blog.conservation.org/2013/07/5-years-later-peruvian-farmers-reveal-new-attitudes-toward-forest-protection/
Phelps, J., Webb, E.L. and Agrawal, A. 2010. Does REDD+ Threaten to Recentralize Forest Governance? Science 328: 312-313.
UN-REDD. (2013). Peru Indigenous People Workshops . UN-REDD Newsletter. 41. Retrieved from http://www.un-redd.org/Newsletter41/PeruIndigenousPeopleWorkshops/tabid/130485/Default.aspx
Viana, V., Cenamo, M., Ribenboim, G., Tezza, J., Pavan, M. (2008). Juma Sustainable Development Reserve: The First REDD Project In the Brazilian Amazon. Fundação Amazonas Sustentável. Manaus.
Zwick, S. November 21, 2013. "US, UK, Norway Launch Next-Stage REDD Finance Mechanism Under World Bank". Ecosystem Marketplace.